Greetings from Healthy Solutions Medical Weight Loss!!!!! 
Tips for the Holidays! We hope you find this content enjoyable and informational. As always, we welcome your thoughts and ideas of how we can improve the content. If you have certain topic you would like us to discuss, feel free to email articles or recipes to carrie.smith@hs-med.com  
 Holiday Diet Survival Guide 
Holidays are always a stressful time, but even more so for the holiday dieter. The thought of sitting down at the holiday dinner table in front of all those scrumptious, fattening, delectable is enough to make you want to pull your hair out……or someone else's! 
Holiday over-indulgence can lead to guilt, remorse and further over-eating, creating a cycle of diet sabotage. 
Luckily, there are ways in which you can cope with all the stress and sit down and enjoy the same meal as everyone else. 
Mindful eating is the trick to not only overcoming the stress but enabling you to enjoy the holidays. 
Tips for mindful eating during the holidays: 
Choose foods that you genuinely want and avoid the rest.

 

Become aware of physical hunger and satiety cues and let these cues guide your decision eating around holiday celebrations.

 

Give yourself permission to mindfully eat holiday favorites. This takes the power back from the food and reduces your guilt which can trigger over-eating and that nasty cycle of diet sabotage.

 

Do not over-think it. If your mind becomes too occupied on food, it may backfire on you, causing too much tension and leading to overeating.

 

  Avoid the "it's now or never" philosophy when faced with the holiday dessert tray. 

 

At holiday gatherings, sit or stand away from the line of site of the food table.

 

At home have people self-serve, away from the dining table.

 

Use smaller plates, bowls, and glasses at your holiday meal.

 

Do not leave bowls of candy and plates of cookies in easy access places. Put these things out of reach and out of your site. 

 

Most important, take care of yourself during the holidays. When holiday schedules, shopping and social obligations create stress, take time for the activities you enjoy and get enough sleep. Sleep deprivation interferes with hunger and fullness cues.

 

When you eat holiday foods in a mindful way, you will enjoy them so much more. Exercise mindfulness by savoring every sense; taste, smell, texture, appearance of your food choices and you will be well on your way to enjoying your holiday celebration.

 
At Healthy Solutions we offer Healthwise Products which you can use to substitute ingredients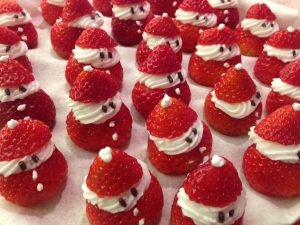 Strawberry/Cheesecake Santa Hats 
Hull strawberries and slice a small portion off the bottom so that the strawberry will lay flat.

 

Combine the shake pudding with water and sweetener in eclectic blender and blend until light and fluffy.

 

Using a spoon, put mixture between the bottom slice and the top slice of strawberry. Place onto a plate lined with wax paper. Chill for an hour or more in the refrigerator then serve. 

 
For more options, use chocolate shake pudding or vanilla shake pudding as the filling.  
Roasted Asparagus and Peppers will definitely be a hit when you need a low-carb side dish that's festive and delicious! Sprinkle with crumbled Gorgonzola, or other cheese of your choice.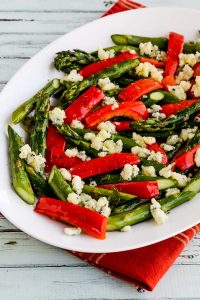 INGREDIENTS 
 1 lb. fresh asparagus, thicker spears preferred

 

 2 large red bell peppers

 

 1 T olive oil

 

 salt and fresh-ground black pepper to taste

 

 1/3 cup crumbled Gorgonzola cheese (or other crumbled cheese of your choice)

 
INSTRUCTIONS 
Preheat oven to 400F/200C. Cover a large baking sheet with foil and then spray with oil or non-stick spray, or skip the foil and spray the baking sheet a bit more thoroughly if you prefer not to use foil.

 

Hold a piece of asparagus at both ends and break to see where the woody part starts, then trim asparagus spears to that length. Cut asparagus in half on the diagonal, or make slightly shorter pieces if you prefer.

Cut off both ends of the peppers and cut out seeds. Then make a slit in each pepper to cut it open, flatten it out, and cut into lengthwise strips the same width as the asparagus.

 

Toss asparagus pieces and pepper strips with the olive oil. Spread out on the baking sheet and season to taste with salt and fresh-ground black pepper.

 

Roast asparagus and peppers for 15 minutes, or until it's done to your liking.

 

While asparagus roasts, crumble the Gorgonzola. (Keep it in the fridge until right before you crumble so it's not too soft and sticky.)

 

When the asparagus and red peppers are cooked to your liking, toss with the crumbled Gorgonzola and serve hot.

 
Call or visit us today to find out more about our Healthwise products. Request and appointment by texting 850-629-0345 or call our office today at 850-309-0356.