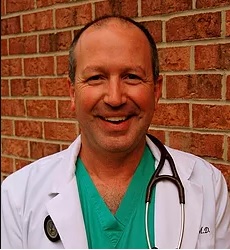 Dr. Bert Morales is a board certified OB-GYN who has been practicing medicine in Tallahassee for over 20 years. As an OB-GYN and an advocate for women's health issues, he has observed women struggle with weight gain due to pregnancy and childbirth, hormone and lifestyle changes and aging. Obesity in women is of growing concern as it increases the risk of cardiovascular disease, diabetes, hypertension, and some cancers.
Dr. Morales serves to support women in combating obesity and ultimately improving overall health and longevity.​ Dr. Morales and the Healthy Solutions team is of comprised medical professionals who share his vision of helping patients achieve weight loss in Tallahassee by extending guidance and support through a uniquely structured weight loss program that can be modified to meet the needs of each individual. As an introduction to Healthy Solutions' weight loss program, each patient is personally consulted by Dr. Morales to discuss realistic weight loss goals and objectives and the patient's progress is then followed through weekly visits with his appointed medical staff.
Contact Healthy Solutions Today!